Recap: June Dinner with Kristin Johnson-Perlock and Barb Janicek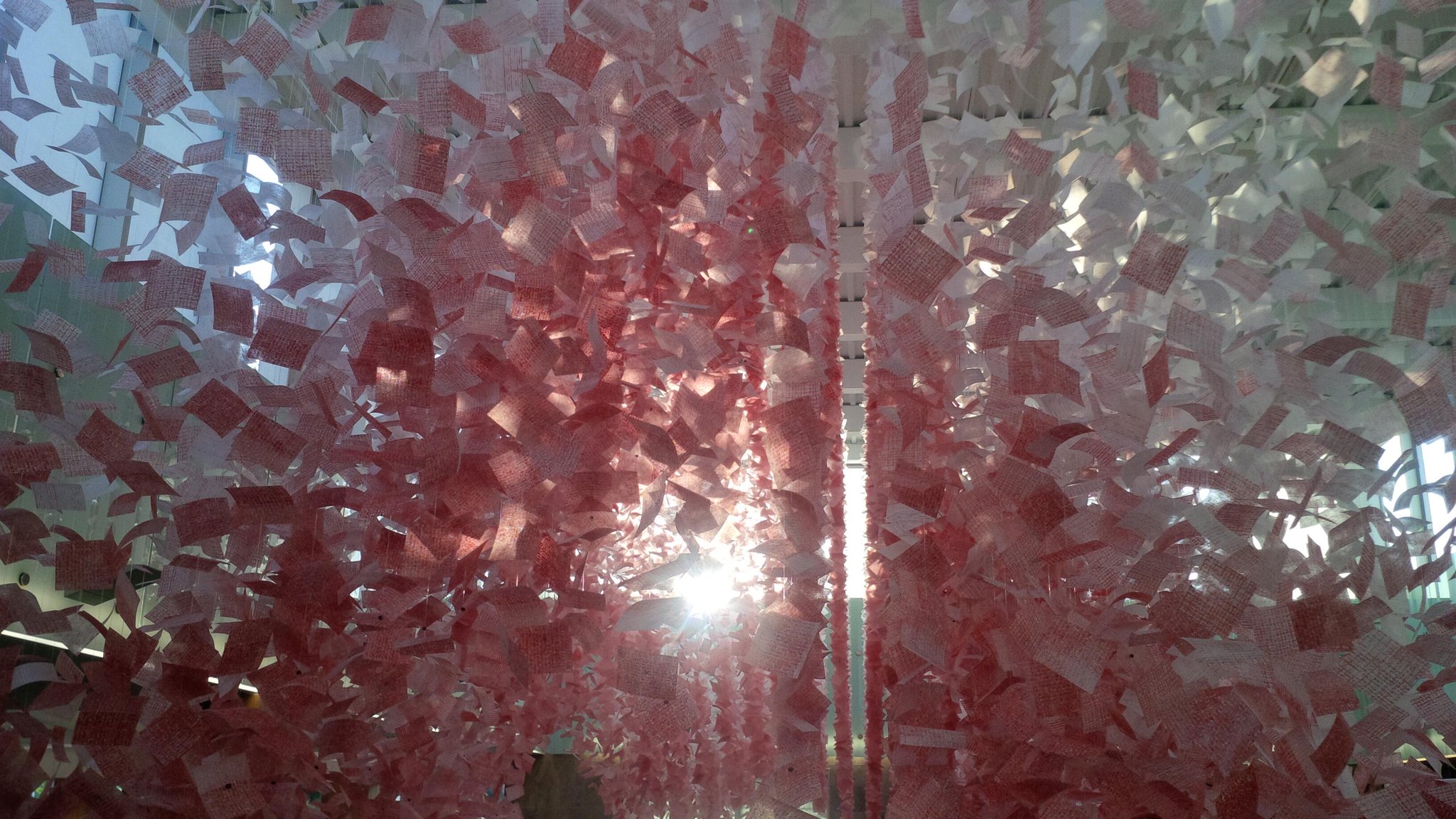 credit: Kate Wilhelm
Summer is finally upon us, and we sent out our season of Girl Geek Dinners in style, munching on victuals from West of Seoul and taking in the four-year-long, $40 million dollar renovations at the Central Library (formerly Kitchener Library). We also learned a lot about the library's resources and strategies and how they encourage literacy and community in the Region.
The theme of the presentation was Library as… Libraries remain important destinations and resources in communities, but what they do and the services they provide have changed over time, and continue to evolve rapidly (no more card catalogues). Libraries need to address issues of changing educational needs and resource needs, as well as considerations like cultural and income spectrums.
A big part of this evolution is digital, both to appeal to digitally native young people, and to bring older people up to speed in our bit-driven world. Barb referenced a great article: The Touch-Screen Generation about the influence of technology on "the kids these days" and their development. (I know both of my nieces were proficient with my iPhone by a year old, and I only recently learned that cursive writing isn't taught in schools anymore.)
There are fascinating questions to ponder regarding technology as it pertains to literacy. Are books inherently anti-social? Is digital media inherently social? Or vice versa? There aren't video game clubs like there are book clubs, per se, but you also can't really chat with and bond with friends while you're reading.
How libraries present and organize information is also evolving. Kids don't necessarily know much about the Dewey decimal system, and their grandparents don't necessarily know much about hashtags, but both are ways of categorizing and searching for information that can be valuable and make resources more relevant to audiences.
Adapting technology to appeal to a variety of library audiences is also complex. Young people are only one demographic the library serves, and older people wanting to learn about email or ebooks are a very different audience. So are new immigrants, who may be tech savvy already, but want to work on their English, or who may already be multilingual, but want to improve their digital literacy. (Central Library has both non-English collections and settlement workers on-site available to new Canadians.)
There are questions and challenges of how to make the physical space of the library an extension of the website and other online resources, and vice versa. How do you make people want to stick around, regardless of what they want to do there? The answers involve a surprising variety of tactics, from bright, airy, comfortable spaces, to targeted collections, to unique art installations, to classes and workshops.
The Library has embraced the concept of being a maker space as well as a space for consumption of information. Central Library now has a very busy 3D printer, equipment for composing music and crafting, and for transferring older technologies (like VHS tapes to digital formats), among other resources.
Interestingly, though, many traditional resources remain very popular. In Barb's world, the children's section, there are lots and lots of books, installations to play and engage with, reading nooks, small tables and chairs for reading, hanging out, colouring, and otherwise collaborating. (Part of children's programming includes educating parents on how to read to and with and engage their kids.) It's important for kids to learn about the library as a place to "stay and play" to encourage them to embrace it as a community destination and resource.
The local history section, a favourite of Kristin's, remains very busy, especially with genealogists. They get visitors in from the US and far afield tracing their family histories.
Many libraries are also taking the concept of "outreach" quite literally these days, taking the library to potential audiences instead of just being a building where people go. Pop-up libraries, bookmobiles (car- or bike-driven), and library programs in external, social spaces are all initiatives that help build community and spread literacy. And let's not forget our own PubLit at the Firkin downtown.
And of course you can find them online on Twitter, Facebook, YouTube, use their apps, and more.
After the presentation we headed out for a tour around the new (and much, much bigger space). We saw collections old and new, technology in use all over the place, the 3D printer in action, gorgeous art installations, and more. But don't just take our word for it – head down to Central Library and enjoy it yourself. And don't forget to pick up a library card of your own.
As a bonus, here's a list of excellent online resources for kids and adults, from books, comics, and video to music, audiobooks, games, and research resources.