To Great Men (and one Woman), the Grateful Homeland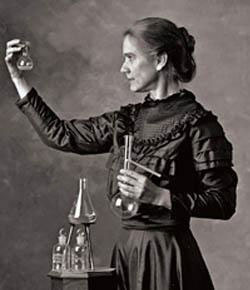 In Paris, France, one of the largest and most prominent buildings is the Pantheon, a secular mausoleum located in the Latin Quarter in the 5th arrondissement.  Constructed in 1758, it is modelled after the Pantheon in Rome, Italy, and contains the remains of distinguished French citizens.
The inscription above the entrance reads "To great men, the grateful homeland". Interment is extremely restricted and decided by a parliamentary act for "National Heroes".  In this imposing, architecturally-stunning, and ancient building are buried many famous men, among them Voltaire, Rousseau, Alexandre Dumas and Victor Hugo.  One of the men there (Marcellin Berthelot) was granted the right to have his wife, Mme Sophie Berthelot, laid to rest beside him.  But it was not until 1995 that a woman was interred there of her own accord.
It took over 200 years; it took a game changer.
Born in Warsaw, Poland, in 1867, Marie Sklodowska had an early interest in the sciences and fervently pursued her passion.  She was unable to enroll in regular educational institutions as a woman which led her to attend the clandestine Flying University, a Polish patriotic school that allowed female students.  At age 24, after completing her initial studies, Paris beckoned, so she moved there to study physics, chemistry and math at the University of Paris.  She was completely devoted to her work, and met her partner in crime, Pierre, in the laboratory.  The two were married and had two daughters.  Marie took on a French identity, adopting the surname, Curie, but she never lost touch with her Polish roots.  She made multiple visits to her country of birth and taught her children Polish.  In the meantime, she continued her work conducting pioneering research on radioactivity, developing techniques to isolate radioactive isotopes, and discovered two elements: Polonium (which she named after her homeland) and Radium.  By 1900, her incredible achievements had led her to become the first woman faculty member at the University of Paris.
Over a relatively short period of time, her achievements and accolades were staggering: she was the first woman to win a Nobel Prize; she was the first person and only woman to win twice; she was the only person to win twice in multiple sciences; she was part of the Curie family legacy of five Nobel Prizes; she developed the theory of radioactivity  (and coined that term); she developed techniques for isolating radioactive isotopes; she discovered two elements (polonium and radium); the world's first studies were conducted into the treatment of neoplasms under her direction; she founded the Curie Institutes in Paris and Warsaw, which remain major centres of medical research today and during World War I, she established the first military field radiological centres.
Marie Sklodowska-Curie died in 1934 at the age 66 due to aplastic anemia.  The likely cause was that she had carried test tubes in her dress pockets containing radium – not yet knowing the effects.
When I visited the Pantheon several years ago on a trip to Europe, I was overcome by its grandeur.  At that time, I had only a vague understanding of Curie's contributions but when it comes to "Women In STEM", I now know she was one of the key pioneers.
The lessons I learned were:
If you love something, figure out how to do it
Go clandestine if you have to
Have pockets in all your dresses
Don't lose touch with your roots
Always strive to be a game changer
You might not be awarded with a Nobel Prize, but you will definitely be rewarded with a life truer to you.
Want to be inspired?  Check us out on Facebook, LinkedIn and Twitter or visit our website www.girlgeekswr.com